Safety is paramount to AML Air. All work is risk assessed & planned in advance, with full records maintained as required by the CAA. Continuous dynamic risk assessment is undertaken as we work. Safety staff and equipment, if required, will be provided. Our staff are equipped with correct and appropriate PPE for the work in hand, whilst our vehicles carry firefighting media and first aid equipment should it be required.
Unfortunately there are a lot of "pretenders" and unlicensed operators in the RPAS world, some having glossy advertising, sparkling websites and are taking fees from unsuspecting customers. Anyone offering aerial services using drones in the UK MUST be properly trained by a CAA recognised NQE Training Establishment, have in place proper insurance to the minimum standard required by the CAA under EU Regulation EC785-2004 and hold a CAA Operational Authorisation. If you need an drone operator – ask for his or her PFCO / GVQ / A2 C of C number first & if in doubt, contact the CAA at uavenquiries@caa.co.uk
Legitimate remote pilots will be able to provide an appropriate A2 or GVC identification credit card sized "Certificate of Competence" like these (*existing PFCO holders will not have these card until they "convert" to GVC as we have done – they will however have a CAA issued A4 sized PFCO or Operational Authorisation):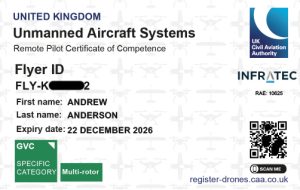 Remember – no CAA A2 or GVC & Operational Authorisation – means NO INSURANCE!!!
If you use an uncertified drone operator you too are liable in the event there is an accident or other incident!
See the links on our Links Page to CAA Guidance for both the hobby and commercial users and you'll see flying & taking photos near buildings, structures, roads, vehicles, property and people is greatly restricted. Hobby drone users and non OA / A2 holders MUST abide by the DRONECODE (2022).
AMLAir are holders of a CAA Operational Authorisation, NQE trained to A2 and GVC level, and insured. Would you use an unlicensed, uninsured Taxi?